Twin Spin Slot Review
If you love your slot machines with a little bit of a twist, then you will probably want to take a gander at the Twin Spin slot machine. It is one of the more unique slot machines that NetEnt have pumped out, but it is still simple enough for even beginner players to understand.
How to Play Twin Spin Slot
On the Twin Spin slot machine, there are 5 reels, 3 lines and over 243 ways in which you can win. To get started on this slot, you are going to need to bet a minimum of 25p.
You can bet all the way up to £250, which means you are going to have a good range of bets that you can play at. This is where we feel NetEnt always shine. They know how to put together a machine which caters to everybody, whether you are a newcomer ore more experienced player.
The only real negative about the Twin Spin slot, and something that we don't really see a negative, is the fact that this slot machine does not really have a theme. It is just a basic slot machine, just like you would find at your standard Butlins arcade. Well, at least on a theming level, it is brilliant beyond that (more on this soon!). The theme is just bells and fruits. It has been given a bit of a retro 'vibe', but it is still a basic-themed game.
Anybody who has ever played a NetEnt slot before will know that these slots have been designed to be as easy to play as possible.
That is the case with the Twin Spin slot machine. You just tap in the amount that you want to bet and you are done. It really is that simple! All of the game is based around for a very specific feature, and that is what we are going to discuss in the next section!
Bonus Rounds & In Game Features
Have you been wondering how the Twin Spin slot got its name? Probably not. We are going to tell you anyway. The name comes from the main feature in the game which, incidentally, is called the Twin Spin feature.
When you play other slot machines, all of the reels play independently of one another. This is great and all but NetEnt decided that it was not enough. With the Twin Spins feature, two random adjacent reels will be selected to spin together. This happens on every single spin.
This means that on each spin, you have a guarantee that two of the reels will have the same symbol. This means that you are well on your way to a couple of combinations.
You will be surprised at just how easy it is to win on this slot! In fact, this is why many people out there love this slot. The wins seem to come through thick and fast. We all play slots to win some cash (or review them, just like us), so it is great that the slot plays out quite well.
If this wasn't enough, the twin spins can turn into triple, quadruple reels. In fact, if you are lucky enough, you can sometimes go down the route of five spins. We haven't quite hit that right now. However, imagine how much cash you could possibly end up winning if you were lucky enough to hit those five reels!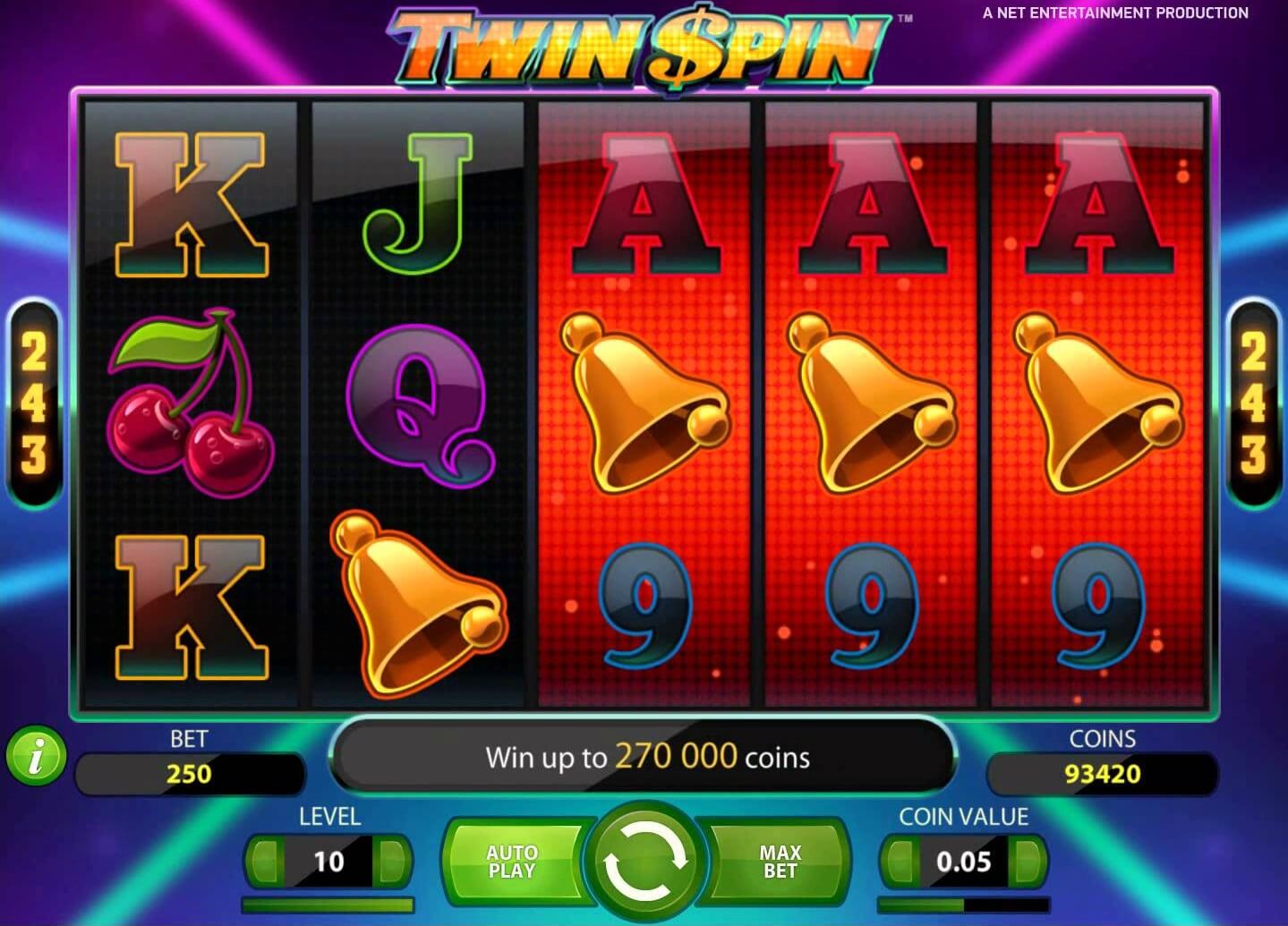 Twin Spin Mobile Slot
If you enjoy this slot machine, and we are 100% sure you will because we love it and we are incredibly hard to please, then you are going to love the Twin Spin mobile slot. It looks absolutely gorgeous. It plays incredibly well too. This means that you are going to have tons of fun on the game!
Our Verdict
We don't say this a lot, but we are genuinely having huge amounts of fun on the Twin Spin slot. Each and every time we crack open this game from NetEnt, we have a massive smile on our face. This is because we know that not only are we going to have huge amounts of fun, but you are going to win tons of cash too. This is always nifty!
You can play the Twin Spin slot on any website which offers NetEnt games. If you are finding it difficult to find a reputable website or indeed you are looking for some highly recommended new Netent casinos, then you will be able to find plenty of suggestions below, each of which offer the best casino bonuses and free spins online!
Recommended Casinos With Twin Spin Slot