Spinata Grande Slot Review
Get More Dinero for your Dollar with Netent's Spinata Grande! Well if we ever saw a Fiesta, Loco Mexican party in a slot then it would be Spinata Grande Slot.
This jolly, bright and celebration slot is really fun to play and boasts some great enhanced ways to win die to the extra features like the colossal symbols and mini slot machine feature (Yes, it really is a slot machine within a slot machine!!)
How to Play Netent's Spinata Grande Slot Game
=Let's get started – it's always wise to read the instructions before you play any slot for the first time, just so you know what to expect and how you can play for maximum advantage.
You can set the slot up to match your playing level. You can adjust the bet level and coin value per round, from 1 to 10 and €0.01 up to €1.00. This makes the minimum bet level of 1 = 20 coins x €0.01 = €0.20 and the Maximum bet of: bet level 10 = 200 coins x coin value of €1.00 = €200
Spinata Grande is definitely a slot for all types of casino players as it offers some options for all types of players, casual or high rolling. Now, without further ado, let's start spinning for what we can only describe as a bit of madness inside a slot machine. With Mexican Mariachi music to match!
Bonus Rounds and Extras
Spinata Grande offers players some new types of extras from Netent and its nice to see they're really bending the rules and not churning out the same slots, over and over again.
Colossal Reel Symbols: This feature is pretty genius, as the symbols can grow as large 2x2 icons and as big as 3x3 icons if they're landed on. These 'Colossal' symbols really mix up the playing and also enable you to win more!
Mini Slot Feature: If you thought that the colossal symbols were wacky, then what about the mini slot feature? Netent also went against all other traditional slot rules AGAIN! And built a 'Mini-Slot' feature, which will appear on the 3×3 colossal symbols which gives instant wins and a chance to open up the free spins round for even more win possibilities. If you're not sure what we mean, it means that the colossal symbols, which grow to be large symbols on the reels, then turn into a slot machine, within the slot machine. It's quite brilliant and give you more wins. We like that!
Free Spins Game: Spinata Grande also offers a Freespins round. The Free spins round also boasts colossal wilds which we explored above, and which will also give you greater chances of larger wins. When you get to the mini slot feature, mentioned above, you need to get a set of multi coloured Star symbols then you will be awarded with a set of free spins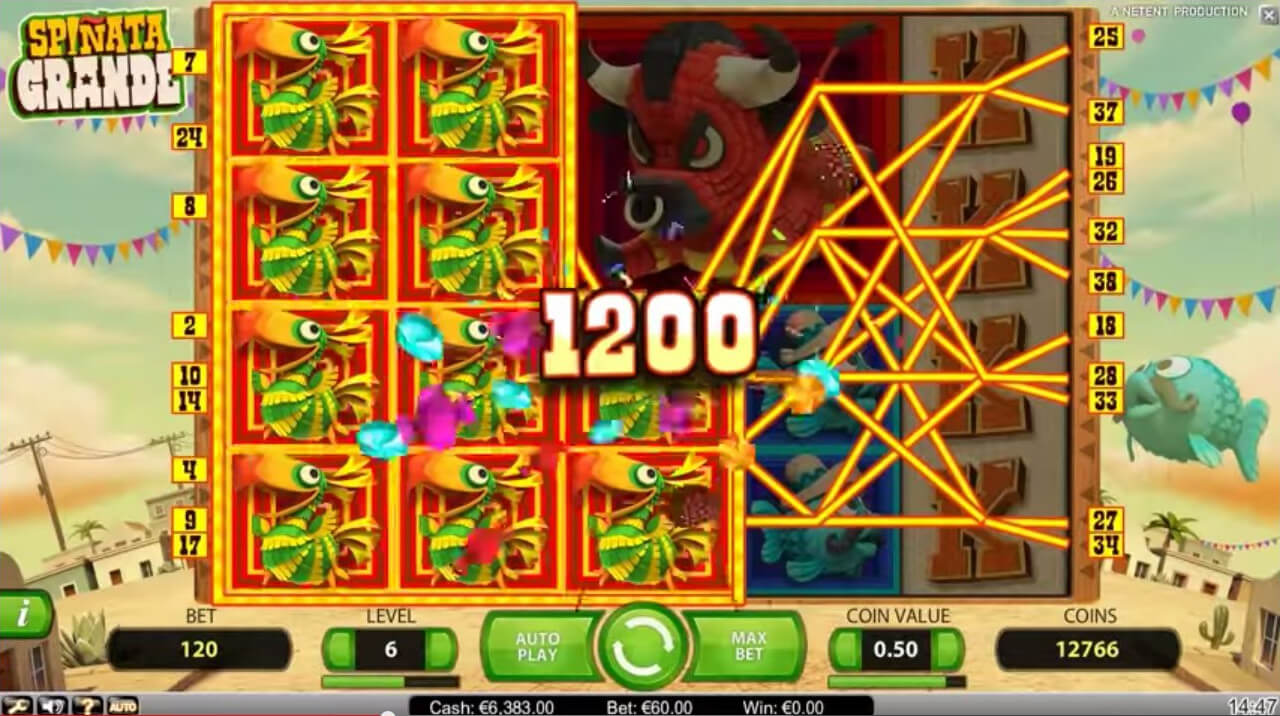 Spinata Grande Mobile Slot
You can play Spinata Grande Touch, which is the mobile slot edition for any Netent slot. Play it anywhere you like, on yo0ur mobile phone or tablet, the choice is yours., Technology these days have enabled that free and now, with a fun slot like this, anytime you get a calling for playing slots with Mexican music and lovable piñata creatures, you can!
Our Verdict
Spinata Grande Slot is a refreshingly different slot because of the fun factor. It's a contrast to other slots that Netent has released, such as the invisible man and Dracula. Spinata Grande is definitely worth checking out.
Where to Play Spinata Grande Slot