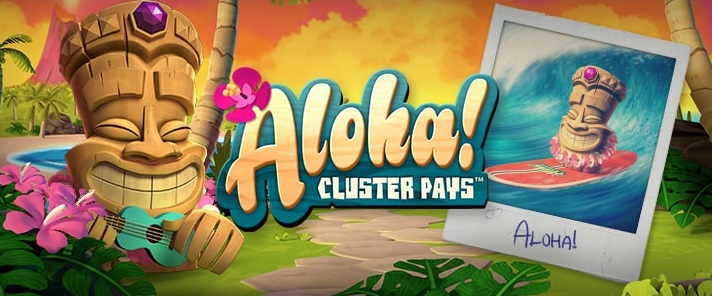 Aloha! Cluster Pays Slot Review
Aloha! Custer Pays Slot from Netent is one of the ONLY times that you will ever be glad that you are witnessing a volcano eruption!
How to play Aloha! Cluster Pays Slot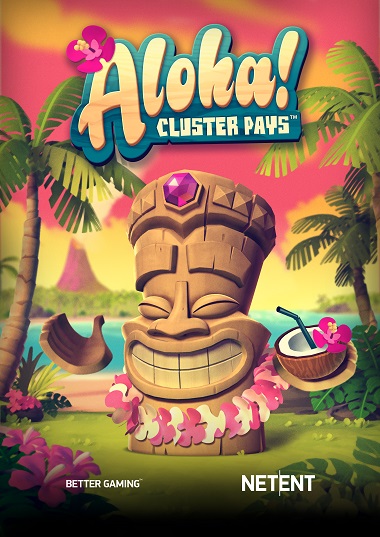 For those on the hunt for a well-themed game which is still simple enough to play for the beginner, then this Aloha Cluster Pays Slot is one of the best places to start. It boasts 6 reels across five rows.
Not so much going on to baffle you, but enough to ensure that you can keep stuff interesting. The minimum spin on the game is 10p, with the maximum £200.
As you can probably guess from the name, this game is all about a tropical island. This means that you can expect bright colours and an overall 'jolly' theme. Symbols include Tiki heads, fruits and shells, basically everybody that you can expect to find if you travel to Hawaii.
There are a few different features thrown into the game (which we are going to cover in depth soon). They are pretty simple to understand, however. For the most part, you are just going to be spinning the reels. This is why many people opt to play Aloha! Cluster Plays slot machine. It is fun enough to play, but you aren't going to have to rely too much on thinking straight in order to hit those bigger wins.
Bonus Rounds & In Game Features
As mentioned previously, there are a few bonus rounds and in game features thrown into the game.
You won't require much effort to understand these, and most of them are just going to require you to hit the spin button and wait for those wins to rack up.
In fact, if you really want, you can just set the game to 'auto spin' and you still will be able to benefit from some nice cash in your pocket. Many people actually do this!
Cluster symbols: this is where most of your biggest payments are going to come from. Your goal is to get a cluster of symbols. If that happens, they will be frozen in place and you will get a re-spin. If you continue to build up that cluster, you will get re-spin after re-spin. Obviously, the more re-spins you are able to get when you play the game, the more cash is going to end up in your pocket!
Free Spins: this wouldn't be a top quality slot machine if there were not a few re-spins thrown in for good measure, right? Of course not! In order to benefit from the free re-spins on the machine, you will need to get the free spins symbols on the slot machine. The number of free spins that you get will be determined by the number of symbols that appear on the machine at once. At minimum, if you get three on the screen, you will get 9 free spins. If you get 6, you will get twelve free spins. 4 and 5 symbols gives you 10 and 11 free spins, respectively.
Of course, free spins are always great. They have the ability to put some serious cash into your pocket. However, you will be pleased to know that Netent throws a few extra things your way too during the free spins. One of these is the 'symbol drop' feature.
This feature will ensure that the lower paying symbols are not going to appear on the reels at certain points. When only high paying symbols appear on the reels, then you are going to make some serious coin wins!
Aloha! Cluster Pays Mobile Slot
Netent, as with the majority of the other machines that they produce, have created a fantastic mobile version of Aloha! Cluster Pays mobile slot.
As we have mentioned before, this is a game which is a breeze to play, and it is fantastically colourful too. As a result, it works incredibly well as a game on your phone or tablet computer.
You can play it on the way to work. Who knows, you get end up making some serious cash during your commute! When we were playing it, we never experienced any slowdown, even on the 'oldest' of devices.
Our Verdict
For those who wish for a slot machine which is a fantastic play but still simple enough to understand, then taking a peek at Aloha! Cluster Pays Slot is almost certainly going to be worth it! We really do suggest that you check it out. It is on par with just about every other Netent game out there.
Where To Play Aloha! Cluster Pays Slot Machine