Theme Park: Tickets of Fortune Slot Machine Review
Netent has given us a classic theme park theme with this slot: Theme Park: Tickets of Fortune Slot serves up Helter Skelters, dodgems and all the fun that goes with it. Play now at our recommended Netent Casinos!
How To Play Theme Park: Tickets of Fortune Slot
Who doesn't like fun fairs and theme parks? Exactly – no one! Netent's Theme Park: Tickets of Fortune™ is a really fun and colourful online slot offering that magical fun fair theme. It's guaranteed to take you down a trip to memory lane with images of Helter Skelters, dodgem cars and classic fairground games, like the fish hook game!
Netent's Theme Park: Tickets of Fortune slot features 5-reels, 3-rows and a whopping total of 50 pay lines. The slot is designed with bright, bursting cartoon colours and has a magical fanfare sounding soundtrack. It is a great looking and sounding slot and we're sure you're going to love it!
The icons and symbols on the reels are designed with balloons, dodgem cars and higher paying symbols such as the stacked wilds and the claw feature, which we will explain below.
To get started playing this slot, you'll first need to find a Netent Casino which offers Theme Park: Ticket of Fortune Slot (have a look at our top Netent casino suggestions below) and then you need to set the slot to your preferred playing limits.
The coins in this slot range from 0.25 to 250 with 10 betting levels. Once you've got that sorted, it's time to buckle up and see what you can win at the fairground!
Bonus Rounds & In Game Features
Theme Park: Ticket of Fortune Slot includes many exciting in game features which you'll encounter when you get started, including high paying Stacked Wild substitutions, the 'Claw feature' and also a grand total of 6 Theme Park Bonus Games, which you can win a go of one of them at a time, by spinning the Theme Park Bonus Wheel or playing the Theme Park Ticket Game.
There's isn't a free spins feature in this slot, which some of you might miss, but it's not really needed as there are plenty of things going on any way:
Stacked Wilds: The Wild symbol is depicted with a rollercoaster cart. These can stack together to fill entire reels for massive win opportunities. The Stacked wilds can help you land some big wins due to the fantastic 50 pay line structure that Theme Park Tickets To Fortune slot has.
Claw feature: The claw feature might sound strange and to begin with we did wonder what it was, so take yourself back to the fair, do you remember those machines which offer a game where you can 'claw' out stuffed toys in a glass box? This game feature is based on that old favourite. When a claw symbol appears on the reels during a normal spin (the base game) it will expand and it'll reach off the side of the screen to grab a prize, and the prize will then be turned into coins!
Golden ticket feature: When you land three golden ticket scatter symbols, you'll trigger the 'Wheel of Fortune' bonus round. On the Wheel of Fortune, you get the chance to spin the wheel and claim some tickets, which they can then be used for one of 6 bonus features:
Duck Shoot feature: You'll get 5 duck shots which will reveal cash prizes. After each shot, the multiplier will increase from 1 up to a x4 multiplier.
Skee Ball feature: Here, you need to throw the ball and make sure they land in various holes. This feature can pay out well if it pans out well, as you can win up to x20 your stake.
Fishing feature: An old fashion fair ground game, this is a simple yet fun feature is where you need to hook fish and you'll reveal some nice cash prizes.
Sledge Hammer feature: This is the conclusive strength test! In this feature, you'll need to hit the hammer and ring the bell at the top! It goes without saying the the higher you hit it, the bigger the cash prizes are!
Can Tower feature: During this feature, you can throw the balls at targets, and knock over as many cans as possible to win cash prizes.
Punching Bag feature: Punch the punching bag as hard as you can in this feature and the harder you hit it, the more cash you'll win!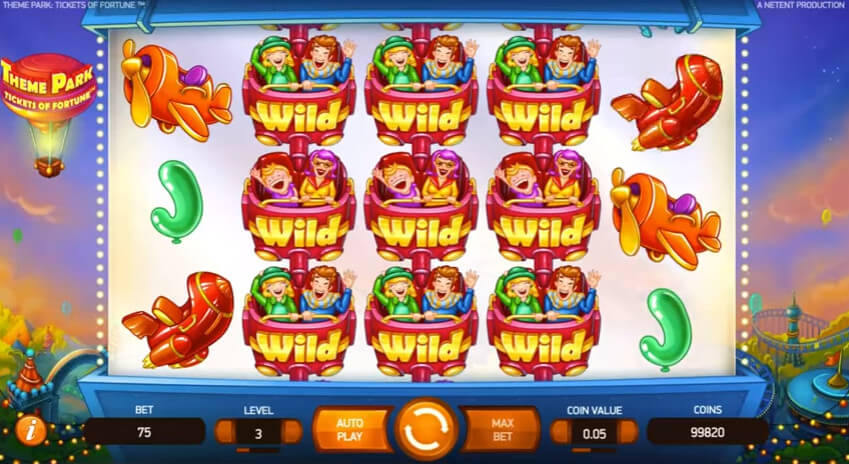 Theme Park: Ticket of Fortune Mobile Slot
Theme Park: Ticket of Fortune Slot can be enjoyed on all mobile devices including smart phones and tablets so it's up to you when and where you play it!
Theme Park: Ticket of Fortune Mobile Slot looks amazing in smaller, mobile format and doesn't lose any of the in game features or the appeal that we've mentioned above.
If you're looking for a mobile slot which offers many, fun in game features and offers a sentimental charm of good old fashioned fun fairs, then Theme Park: Ticket of Fortune Mobile Slot comes highly recommended.
Our Verdict
Theme Park: Ticket of Fortune Slot is packed full of in game features, fun graphics and a cute sound track. What we really enjoyed the many in game features it offers, from the Claw feature to the Bonus Wheel which you'll get to spin to determine the next bonus round.
Theme Park Tickets of Fortune Slot is well worth playing and you can try it out at any of our recommended top Netent Casinos below, each of which offer the best casino bonuses and free spins offers for newly registered customers!
Where To Play Theme Park: Tickets of Fortune Slot Game